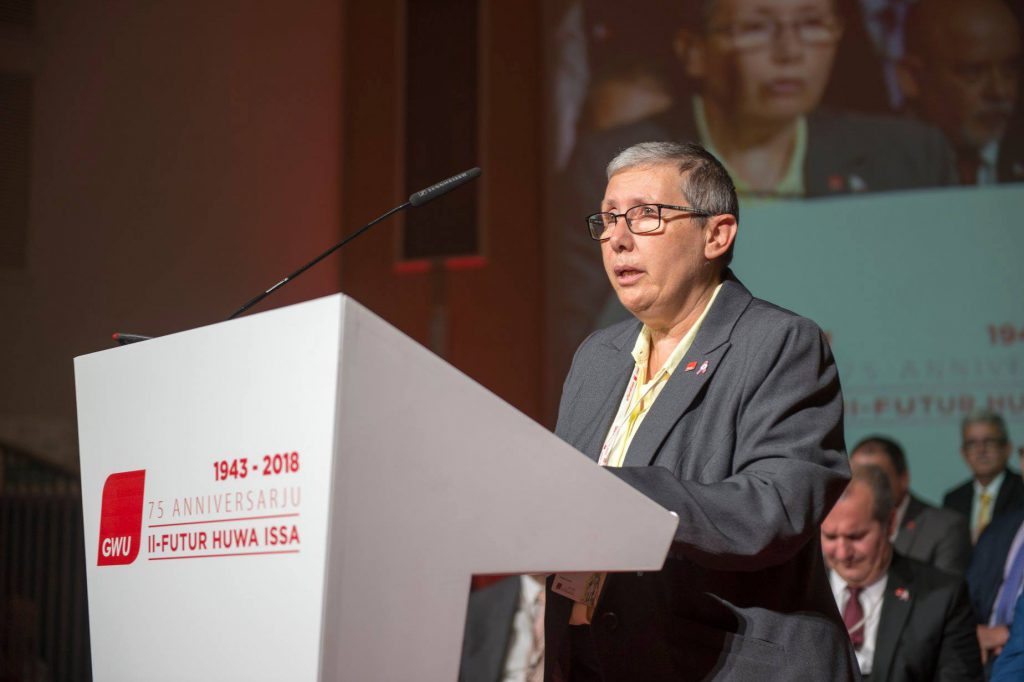 Rita Dimech
Section Secretary – Chemicals & Energy
Born in September 1961, Rita Dimech worked as a machine operator with Shirasuna Ltd and as a nurse at the Blue Sisters' Hospital. In 1980 she joined Hob Electronics (a company of Playmobil) as a machine operator. In1990 she became a Quality Inspector. In 1996 she joined the Playmobil Funpark as a Sales Assistant and in a few months became a Sales Representative. Shortly after she was promoted to the post of Administrative Coordinator. Her involvement with the GWU started when she joined the GWU in 1978 and became a Shop Steward in 1981. Dimech acted as an Assistant Secretary of the Chemicals & Energy Section and was a member of the GWU Council. Prior to being elected as Section Secretary. For 6 years she was President of the same section. Rita Dimech enjoys reading, specifically biographies, and likes to travel. She also studied music at Sister Eastwood.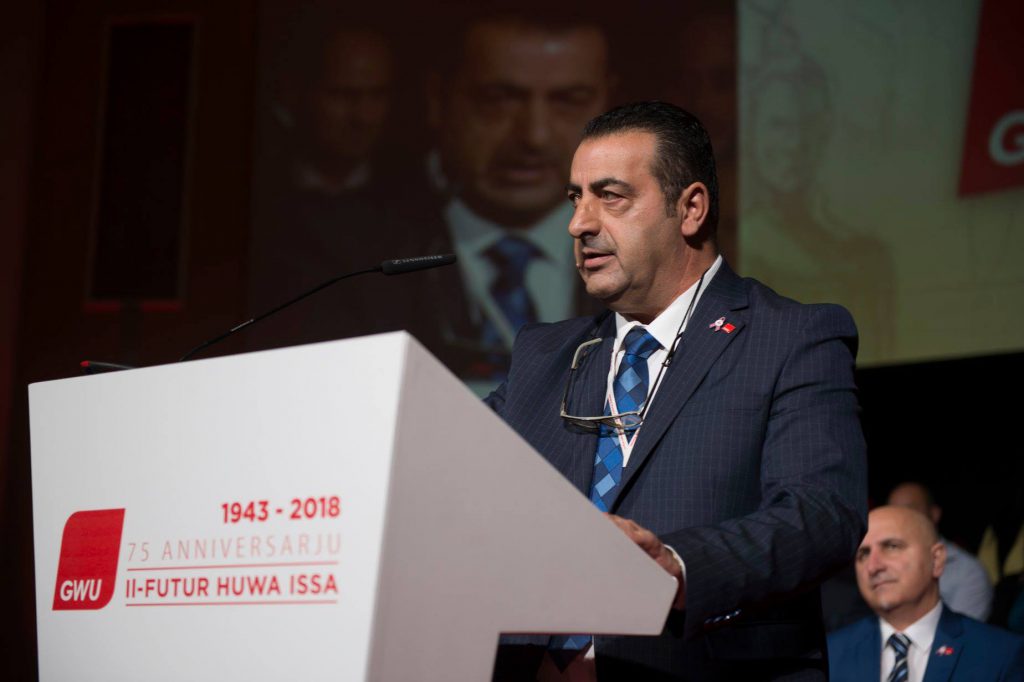 David Darmanin
Section Secretary – Technology, Electronics & Communication
Born in February 1959. David Darmanin worked at De La Rue, for 38 years. In February 2014 he was elected as section secretary for technology, Electronics and Communication section. Prior to becoming Section secretary, he served as a workers' representative, primarily as their shop steward, which he did for more than 28 years. Together with this responsibility he was also a member of the Section Executive and a member in the GWU's National Council. He has a passion for classic cars so in his free time he enjoys reconditioning these of cars.
email: ddarmanin@gwu.org.mt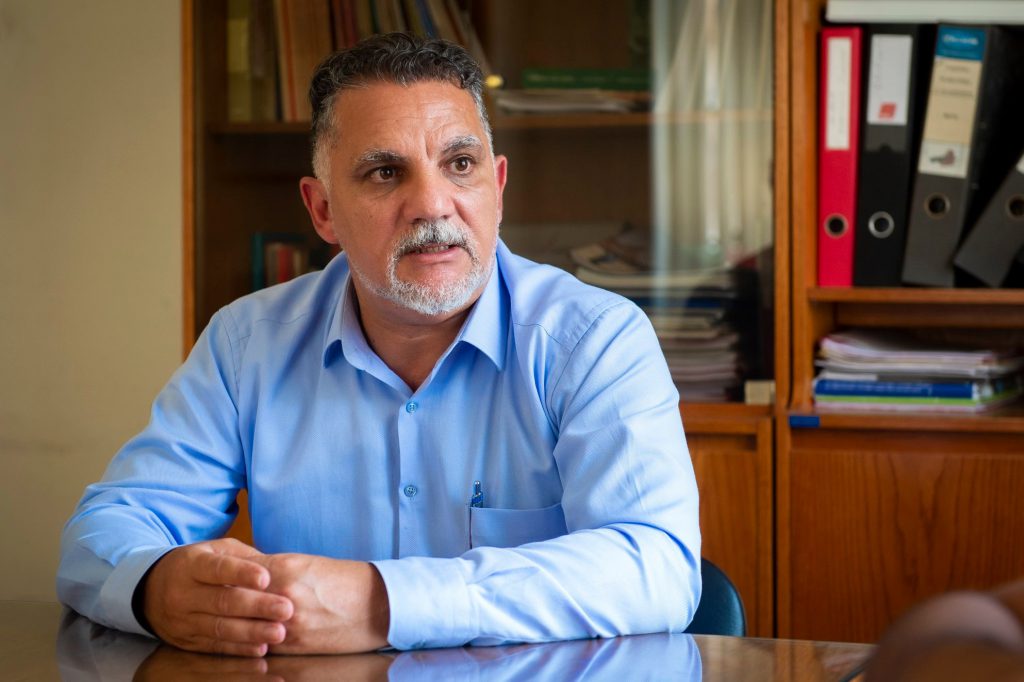 Sandro Vella
Section Secretary – Maritime and Aviation
Born in May 1967, Sandro Vella joined Air Malta as Cabin Crew in 1987 until 2009, he served as Secretary to the Union of Cabin Crew for 13 years (1996-2009). As secretary he was responsible for the signing of three collective agreements and a rescue plan MOU in 2007. In 2011 he joined ETC on a two- year EU project which was the Youth Employment Programme YEP. He joined the GWU in July 2014 as Assistant Secretary of the Maritime and Aviation Section. At the age of 48, in July 2015, Vella was nominated and elected as the Secretary of the same Section.
email: svella@gwu.org.mt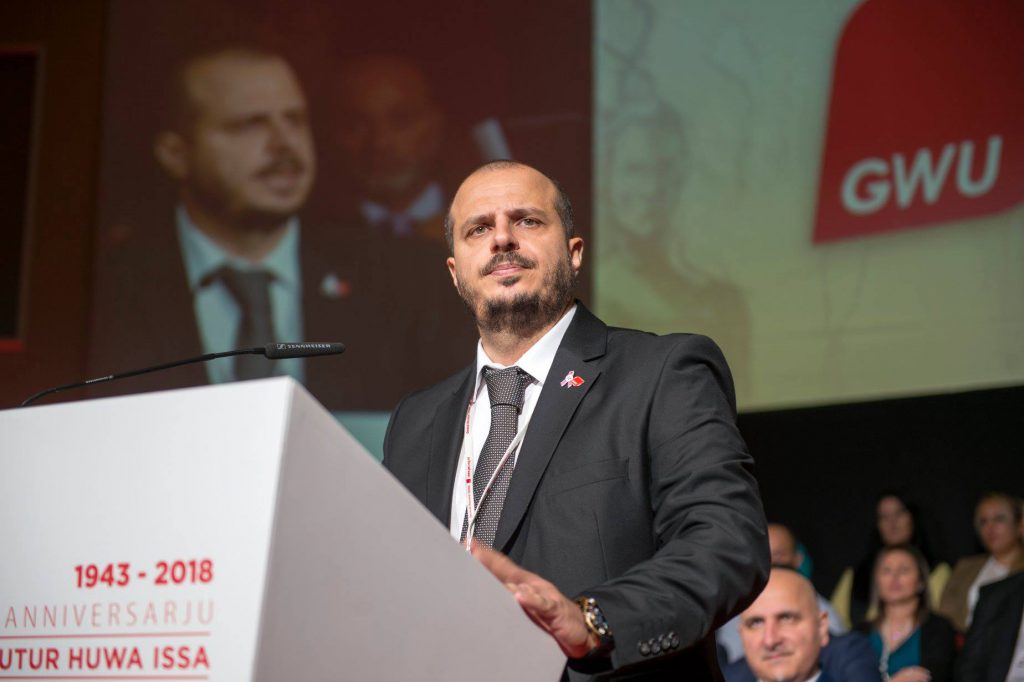 Kenny Muscat
Section Secretary – Hospitality and Food
Born in March1982, Kenny Muscat temporarily worked in the hospitality sector throughout his higher education. After his studies, he had a career in the field of Sales and Marketing. Muscat began to be active in the trade union field when he was recruited with the company General Soft Drinks in the quality control department. It was here that he was chosen by his colleagues to be their GWU representative as well as a Health and Safety Representative. In this period, he was also a member of the Section Executive. In June 2014 he joined the GWU as an Assistant Secretary for the Hospitality and Food Section. It was in November 2015 that, at an extraordinary section conference, he was appointed Secretary of the same Section.
e-mail: kmuscat@gwu.org.mt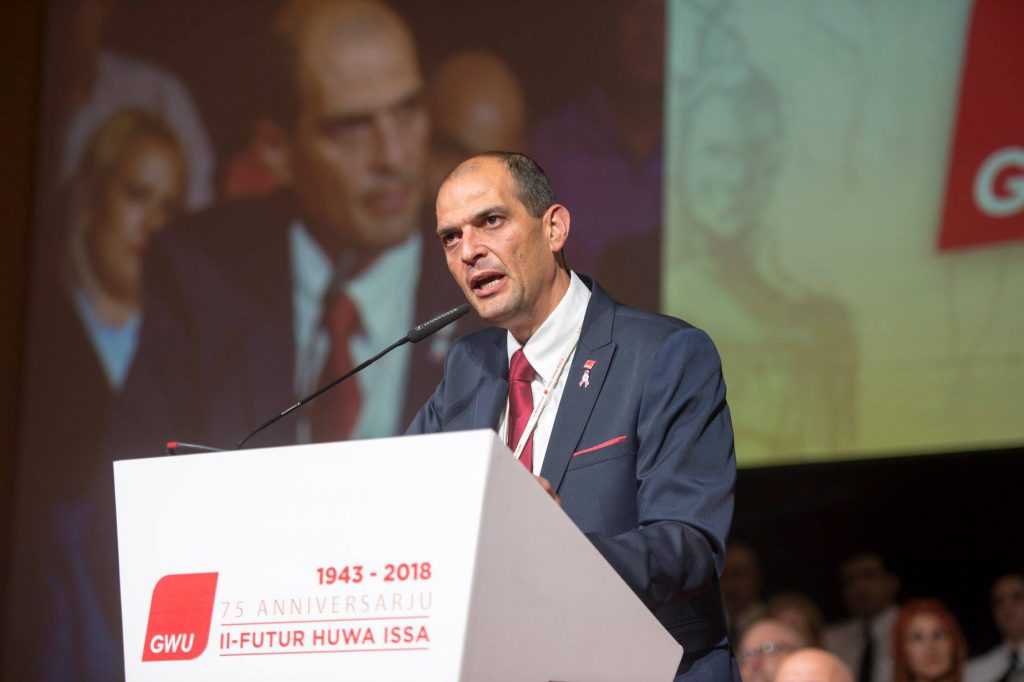 Jason Deguara
International Secretary
Born in July 1977 Jason Deguara is the International secretary at the GWU. In February 1996 he started working with Playmobil as a machine setter and became a member of the GWU. In 1999 he was elected shop steward of his section where he represented his colleagues. He was elected as section executive member and Council member in 2004. In 2005 at the Chemical and Energy bi-annual conference Jason was elected as the assistant secretary of the mentioned section. On the 10th of August he was elected as the secretary of the same section which position, he held for 8 years. In 2008 Jason furthered his education in social studies and gained a diploma in Industrial relations. During the National Conference of 2015 he was elected as the first International secretary for the GWU. Jason represents the GWU in important European structures, including the Confederation of European Structures Trade Unions (ETUC) as well as attending executives of other European Confederations. In his free time, he enjoys watching football, traveling, and reading.
email: jdeguara@gwu.org.mt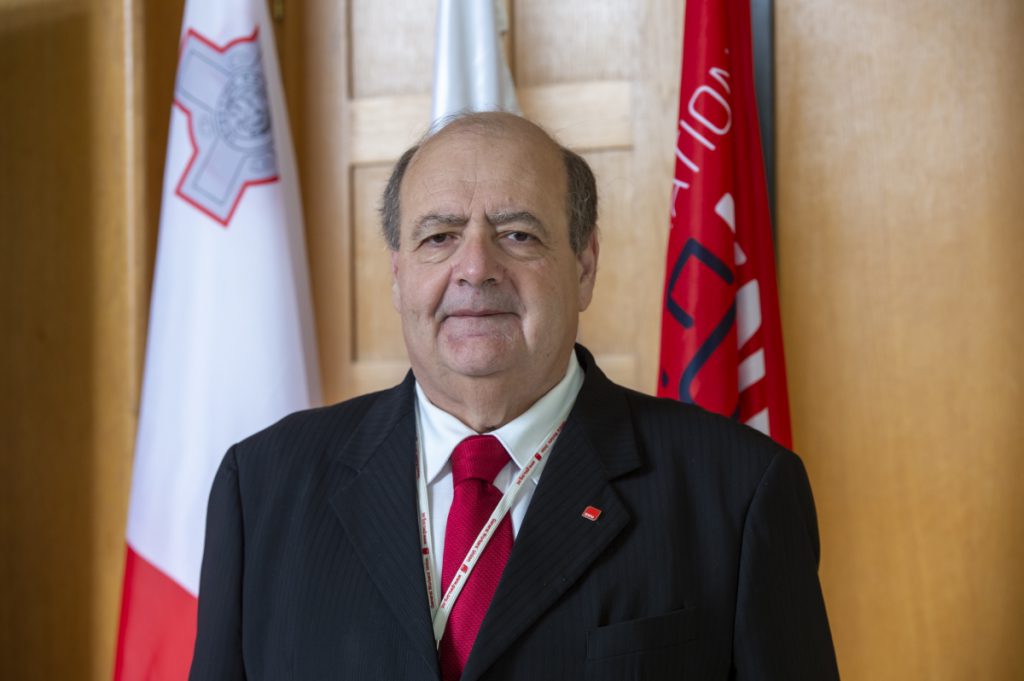 Tony Zarb
Acting Section Secretary – Pensioners' Association
Born in January 1954, Tony Zarb worked at the Hilton hotel as an apprentice, he then went on to work at the Farsons Plc factory as an operator and later at the Blue Bell company, where he was a union representative. In 1985, he was appointed as the Assistant secretary of the Port and Transport Division for the first time. A year later he was appointed secretary of the same sector. In 1986 he was elected Deputy General secretary. Two years later in 1988 he was elected General secretary of the GWU a post which he held for 17 years. In 2020 Tony Zarb was appointed as the acting Pensioner's secretary association. In his career he has held many positions at both national and International levels.
email: pensioners@gwu.org.mt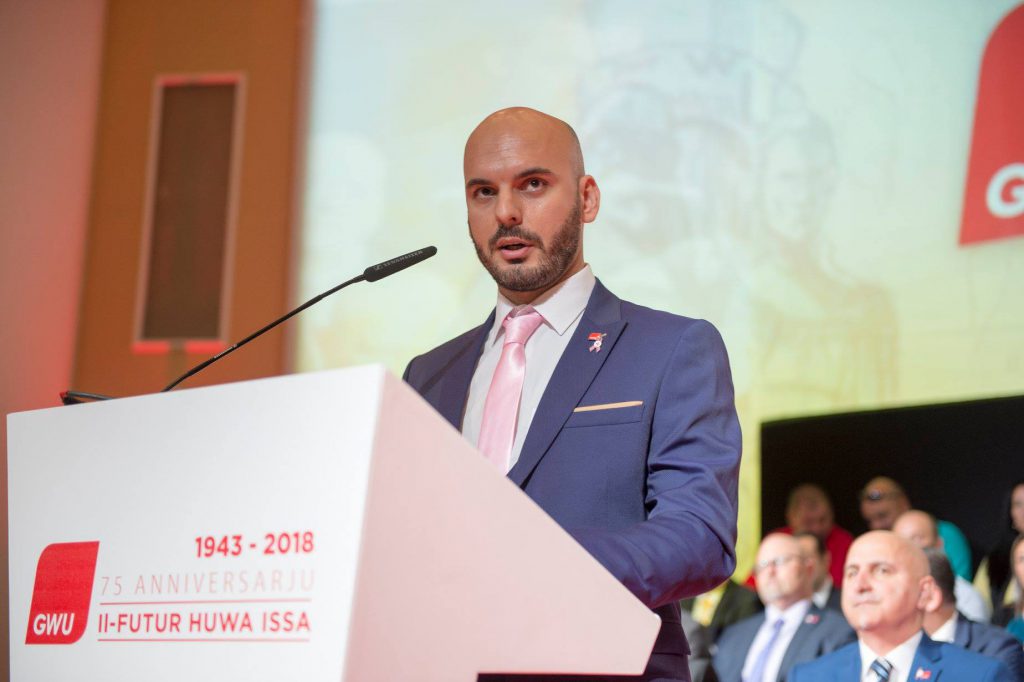 Kendrick Bondin
Secretary – Government and Public Entities
Born in February 1986, Kendrick Bondin representing Workers' in the Public service focusing on European Funded projects. On the 1st of October 2013, he started his work at the General Workers' union as an assistant secretary in the Government and Public Entities section. In 2016 he was elected as the secretary for the GWU Youths, where he was responsible for youth affairs, events, and projects. He holds a bachelor's degree in communications and Philosophy and a bachelor's in science (Hons) in sports and active Lifestyle. Previous experiences include the post of Projects Manager within the Planning and Priorities Coordination Division and as a Principal within the Office of the Prime Minister. His passion and interests include individual sports, yoga, human and civil rights. Furthermore, he has a personal interest in animal welfare and the protection of the environment.
email: kbondin@gwu.org.mt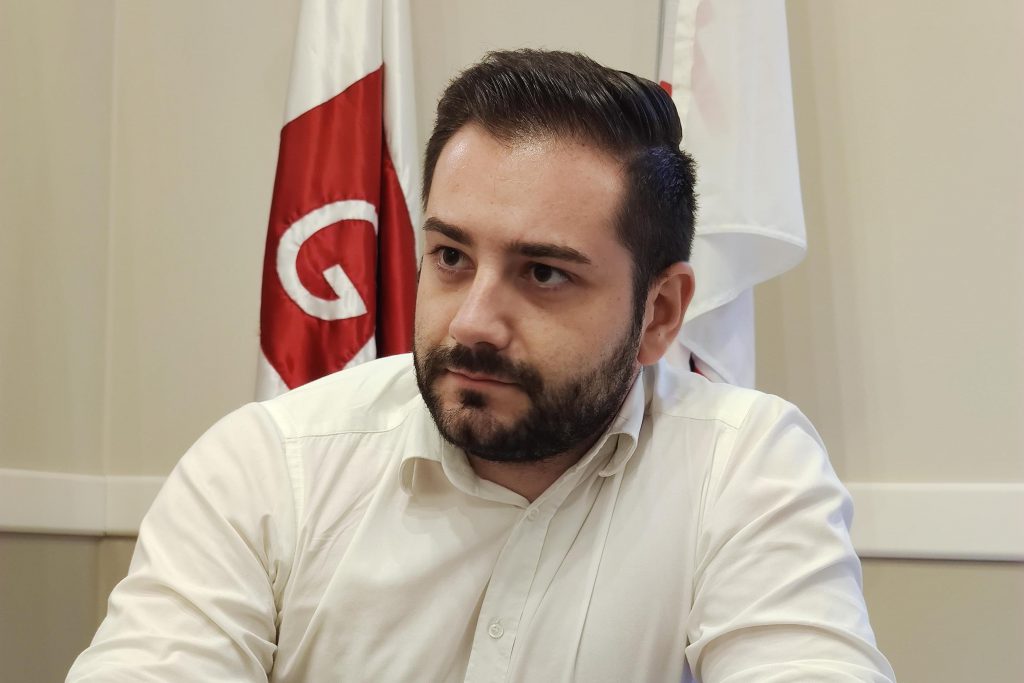 Larinov Muscat
Secretary – GWU Youths
Born in May 1993, Larinov joined the GWU Youths in March 2013, where, as an active member participated in activities organised by the association including Freshers' week at the university of Malta. As a technical person on the radio program called 'Young people ask' as well as participating in various workshops. In 2016, Larinov was trusted by members to hold the position of treasurer. He holds an honorary bachelor's degree in computing and business from the university of Malta. In addition, he has a diploma from the university of Cambridge in Information Technology, a Cisco CCNA Routing and switching certification. His previous work and responsibilities include those of Junior/Student IT Administration in the office of the prime Minister, in the department of Commerce and at Identity Malta, under the placement program. He currently works as a Business applications Consultant with a private company in the field of Information technology. Larinov gives his voluntary time to fulfil the role as secretary of the GWU Youths section. He is interested in sports, especially football, where he was one of the founders of the GWU Youths informatics and technology football team. He is also interested in the protection of the environment and animal welfare.
e-mail: larinov.muscat@gwuyouths.com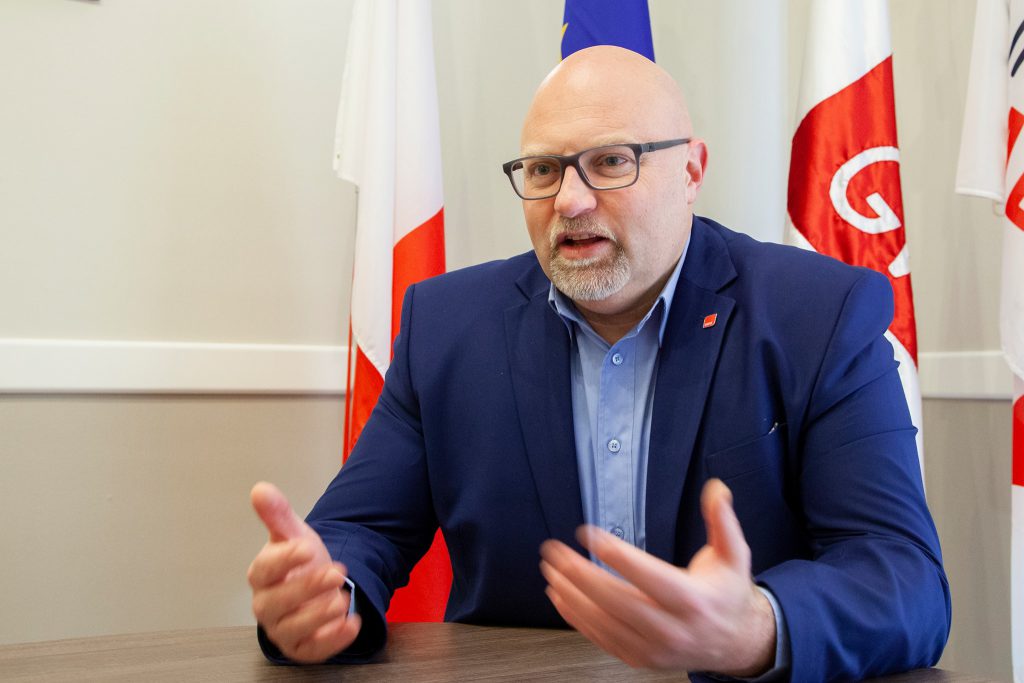 Theo Vella
Secretary – Disciplinary Corps, Security and Law Enforcement Officials
Born in 1973, Theo Vella Worked in the field of security at various establishments. In December 1995 he joined the Police force in the rank of constable where he was stationed in the Forensic section. In March 1996 he qualified as a scene of crime officer and was nominated in Magisterial inquiries as a court expert on various serious crimes. In 2001 he was promoted to the rank of sergeant.
Theo became involved in the union immediately after the law which, allowed members of the disciplined forces to join a trade union of their choice was passed. In 2015 he was one of the seven founders of the Police officers, union (POU) It was registered as a union a few months after the law was passed. In 2017 at the biannual conference he was nominated as the assistant secretary in charge of Discipline corps within the GWU. In 2017 at the General conference Josef Bugeja announced that the discipline forces, security, and law enforcement officers would be established. Theo was nominated and appointed as secretary of the Disciplined forces section following a public call for the mentioned post, which was approved by the delegates.
email: tvella@gwu.org.mt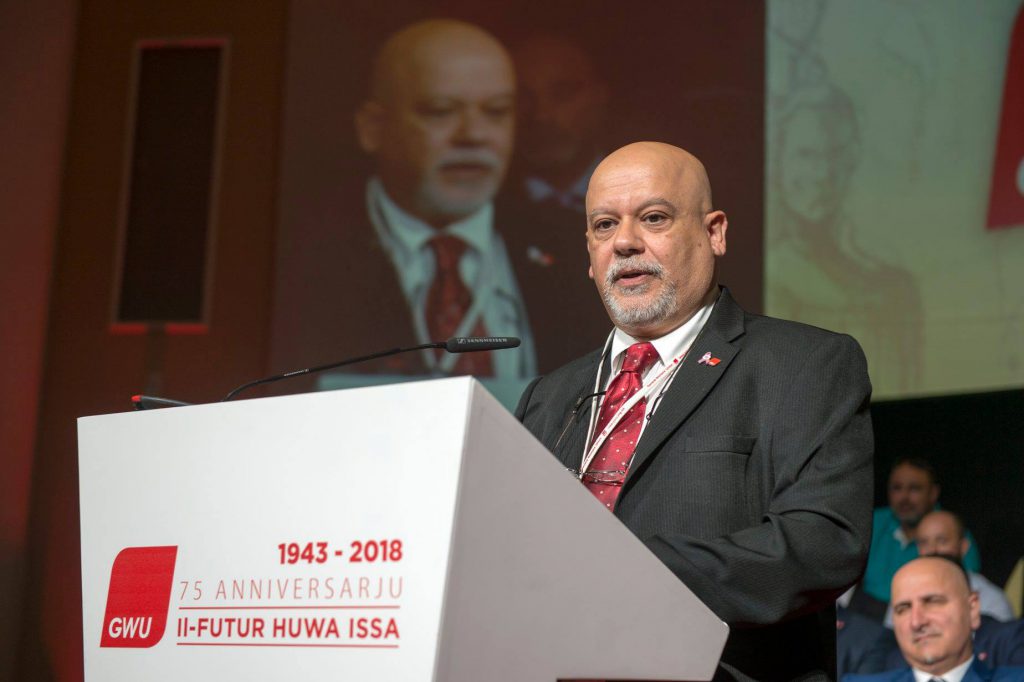 Jesmond Marshall
Secretary – Metal and Construction
Born on the 1st December 1965, Jesmond took a course in Tourism after finishing high school which, led him to work in several hotels until 1984. He joined the medical sector as a health assistant. From an early age he was active in trade unionism. Consequently, leading him to convince the health assistants to join the GWU and becoming the shop steward. 
In 1989 he left his role as a civil servant and went to work for a shipyard company. When this company closed down he was employed by the Malta shipyard, however in 2003 he was one of the workers to be transferred to a government company, which was Industrial projects services limited, he went on to work with Malta post and later the Eden Foundation/ Inspire where he worked as an IT Instructor. Jesmond went on to specialise in teaching IT.
In 2014 he went to work in the prime minister's office where he was the officer in charge of office management. Throughout this time, he remained active in the GWU, where he was a member of the executive for the metal and construction sector which he later went on to become the assistant secretary of. He is also a member of the executive of European federation of building and woodworkers (EFBWW). Jesmond started working full time at the GWU in 2015. In 2017 he took up his current position as secretary of the metal and construction section. Jesmond is a great lover of music especially rock, movies and travelling.
email: jmarshall@gwu.org.mt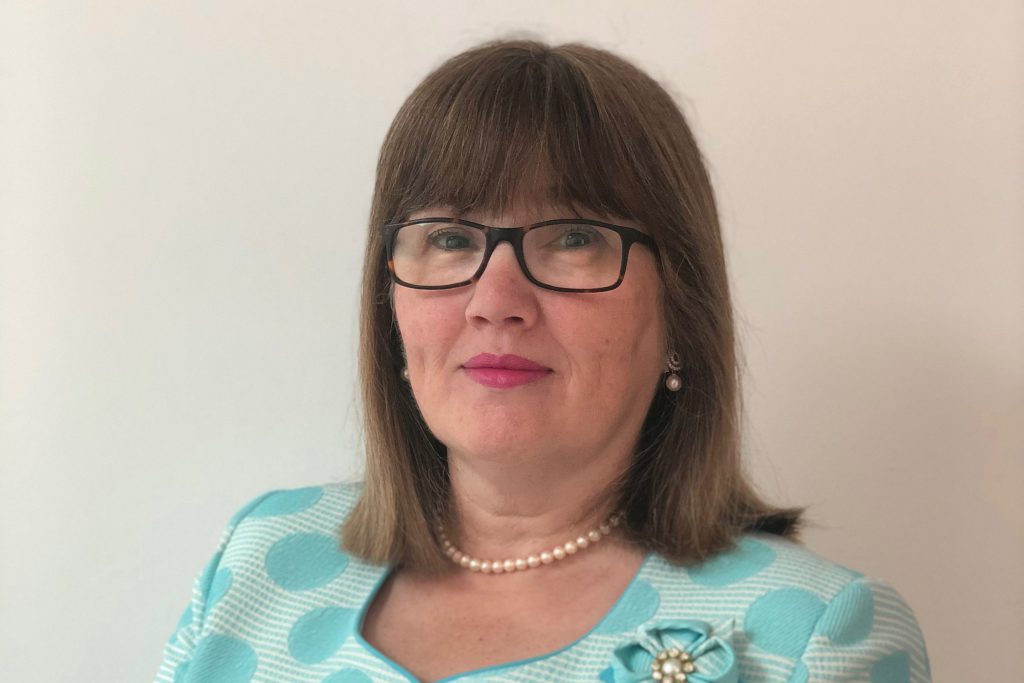 Riccarda Darmanin
Secretary – Professional, Financial and Services Section
Born in June 1963 and attended Immaculate Conception High School in Tarxien and Upper Secondary School in Msida. She started working as a workers' representative at Bank of Valletta plc where she worked for 32 years. In 2017, she was promoted to Financial Advisor after obtaining the Diploma as Certified European Financial Analyst which is recognized by the FCA Financial Conduct Authority of England as well as the Financial Regulator in Malta, the MFSA. She is currently pursuing her studies at the University of Malta with a Diploma in Gender, Society and Work. It was during the Extraordinary Conference of the Professionals, Finance and Services Section that Darmanin was nominated and subsequently confirmed as Secretary of the same section on 1 July 2019. She represents the GWU on various European committees, is part of EuroCadres Executive Committee and an active member of the Uniglobal Union committee. Her personal interests include travel, reading and movies.
e-mail: rdarmanin@gwu.org.mt