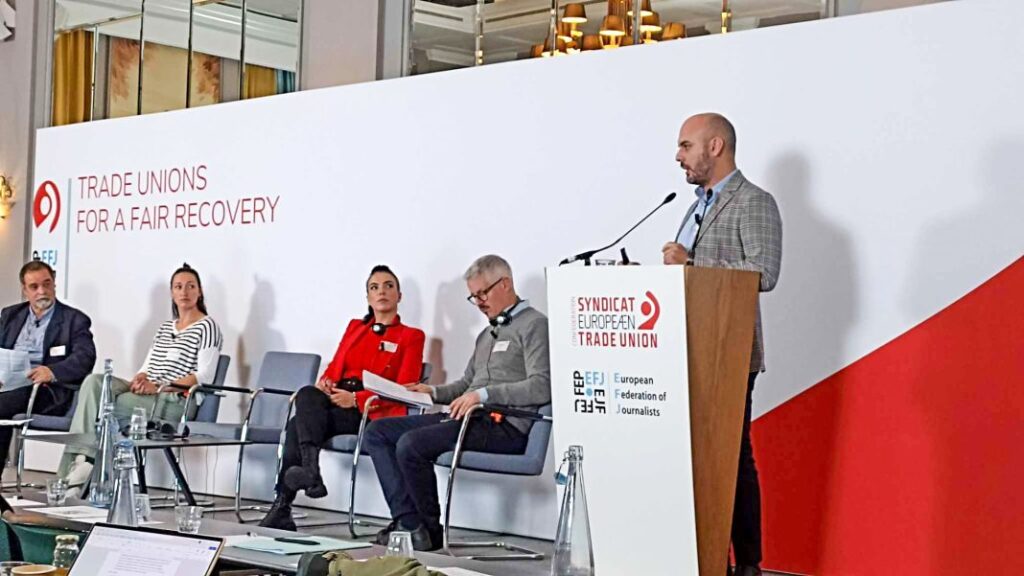 In his comments on this website, Secretary Bondin said that the project involved two
investigations, the first by conducting an analysis of the world of work in Malta,
where training was also given to GWU representatives to be prepared for the
challenges caused by the pandemic. The second investigation looked at the
recommendations made in various workshops and interviews with employees and
employers.

From this research, it emerged that Covid-19 had an impact on people with
disabilities as it affected their working and social lives. This is because they did not
have activities where they could go out and relax as they are considered vulnerable.
The Secretary of the GWU Government and Public Entities, Kendrick Bondin, was
invited to speak at a conference of the European Trade Union Confederation (ETUC)
entitled "A Fair Deal via Social Dialogue and Collective Bargaining." in recent days.
Mr Bondin spoke about the project carried out by the GWU with European funding,
which looks at the impact of Covid-19 on workers, including young people, women,
people with disabilities and those who work atypical hours, i.e., working weekends
and even shifts.
With regard to the young people, it was noted that Covid-19 did not allow them to
meet their colleagues while they were doing certain training from home. On the other
hand, many of the women insisted that they had more flexibility during this time and
therefore chose to stay in the workplace.

The same research highlighted the need to protect mental health in the workplace,
something the GWU has also started to implement, with several employers including
this in collective agreements with the same union. "We have also recognised the
need to improve the education and training of union representatives, to bring it up to
date and to attract more young people," said Bondin.

Secretary Bondin also spoke about the need to recognise the skills of workers and
ensure that there is more inclusion and equality in the workplace. He reiterated that
ETUC members welcomed the GWU's work in this project, while stating that the
union would continue to bid for other projects, including the transition to a "green
economy" and green jobs.

"In fact, the GWU has been accepted for three more projects – one of which it will
lead – which will focus on green jobs and digitalisation. The other two projects relate
to digitalisation, retraining and the new skills workers need to adapt to the new
realities unfolding around us," affirms Bondin.

With all of this, the GWU continues to show how proactive it is, as it not only
analyses the current situation, but also prepares for the future.