The General Workers' Union (GWU) participates in a considerable number of European projects together with trade unions from other member states of the European Union. Some of these projects are carried out by the GWU itself.
This was stated by GWU General Secretary Josef Bugeja yesterday morning when he opened the first of three meetings in Malta on an 18-month project dealing with the European directive on the posting of workers in the transport sector. In this project, GWU is represented by the Maritime and Aviation Division.
In addition to GWU, the partners of the project include the trade unions BTB ABVV from Belgium, Podkrepa from Bulgaria, CGIL from Italy, as well as trade unions from Albania, Slovenia and the United Kingdom, the Employers' Association of Bulgaria and the European Transport Federation ETF, among others.
Josef Buġeja said that GWU has expanded its borders to such an extent that it now also represents the interests of foreign workers. One of the largest groups are the Italian workers. In this context, he mentioned the close cooperation between the GWU and the Italian trade union CGIL, which combine their experience in securing the working conditions of Italian workers in Malta.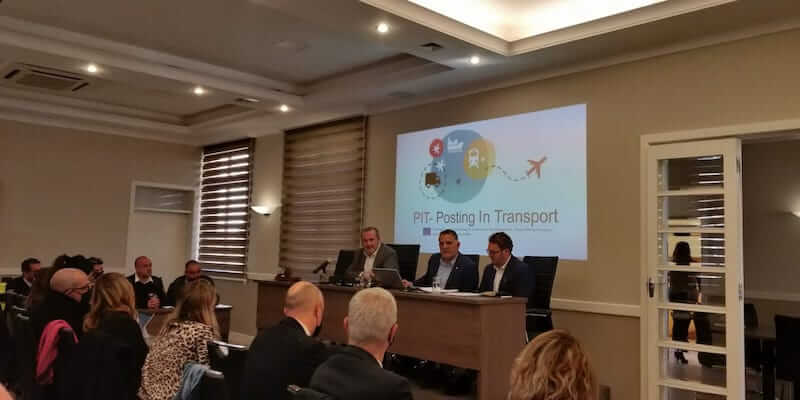 Regarding the project on the posting of workers in the transport sector, the Secretary General explained that the aim of the three-day meetings was to better understand the European directive and the impact of its implementation on workers in the transport sector. Josef Bugeja mentioned how, in this context, the GWU expressed its concern about the obstacles that the Directive brings, including the fact that it will take into account all (one size fits all), while the circumstances in Malta are very different from those of other European countries.
Therefore, the General Secretary concluded, social dialogue is important and crucial not only at trade union level, but also at national level with the Maltese authorities.
This project is led by the Italian CGIL and its coordination in Malta is in the hands of Sandro Vella, Secretary of the Maritime and Aviation Section of the GWU, and Riccardo Travaglini, who is the contact person in Malta between the CGIL and the GWU.
Among the objectives of this project is the strengthening and continuation of cooperation between stakeholders relevant to the posting of workers, such as social partners, public institutions and private companies. This will help strengthen the protection of workers' rights, contributing to the full implementation of the European Directive 96/71 / EC on the posting of workers in the framework of the cross-border provision of services and supporting the actions of the national liaison officer ELA by improving cooperation between social partners and labour inspectors at national level.