The General Workers' Union has signed a new collective agreement for ST Microelectronics workers covering the period 2020-2023. In addition to improving working conditions, this agreement also provides for wage increases and other benefits such as shift allowance.
The agreement was signed on behalf of the GWU by the secretary of GWU Technology, Electronics and Communications Division David Darmanin, while on the side of ST Microelectronics, the company's managing director Dr. Laurent Filipozzi signed.
Also present at the signing were GWU General Secretary Josef Bugeja, Deputy Section Secretary Charles Seracino and other representatives of ST Microelectronics.
The General Manager of the company Dr. Laurent Filipozzi said that this agreement is a very important milestone because we will now implement what we promise in this agreement to improve the conditions of our workers.
He added that it is appropriate to provide incentives for these workers, with the aim that they increase their contribution to the company. In addition to investing in the workers, Filipozzi also said that now that the company is celebrating the 40th anniversary of its founding, it is time to make another innovation that will further raise the level. Regarding the talks with GWU, Filipozzi said negotiations began about a year and a half ago, but there was a period of disruption due to the Covid 19 pandemic. During that time, the situation was evaluated, and the necessary calculations were made so that the company could continue to be internationally competitive while helping the workers.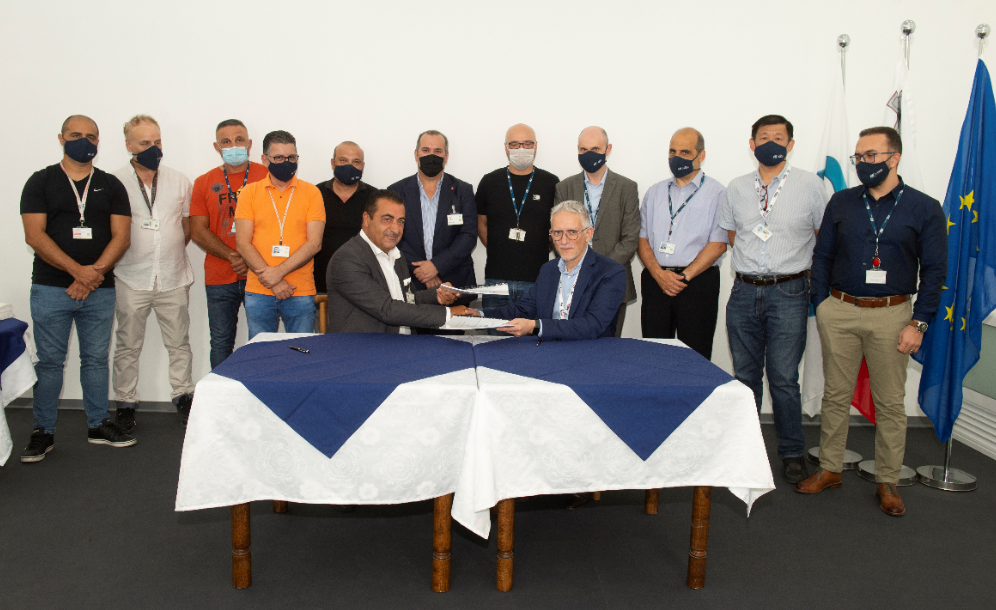 The GWU secretary for technology, electronics and Communications David Darmanin said the discussions were not easy, but today he is very pleased that despite a pandemic period, this agreement was reached with a large company like ST Microelectronics. Darmanin thanked the committee, which was very helpful in the discussions, the general secretary, as well as the management, which understood that in this day, and age, it was necessary to revise the conditions and wages of workers.
The General Secretary of GWU, Josef Bugeja, told us that this agreement must be seen in the light of a pandemic, where you have a company that, together with GWU, will ensure that none of the workers will be dismissed or have their working hours reduced. Bugeja said he sees that this company has a great future ahead of it and that this collective agreement will be a tool for the workers to advance in their careers.
Section Assistant Secretary Charles Seracino called this agreement the best in 20 years, in part because of a substantial improvement in conditions for workers, both in terms of conditions and salary.
Shop Steward Jason Gatt also noted that the discussions were long because of the pandemic. He said that workers on pay scales 1 to 3 and pay scales 4 to 7 will benefit from the improved conditions and noted with satisfaction the increase in wages as well as important benefits such as the shift allowance.
Source: inewsmalta.com
Images: Roger Azzopardi