The Bank of Valletta and the General Workers Union have signed a new collective agreement for the period 2022 – 2024 at the House of the Four Winds in Valletta. BOV Chief Executive Officer Rick Hunkin, along with Dr. Vanessa Borg, Ray Debattista and Lawrence Schembri, signed the agreement on behalf of the Bank. Riccarda Darmanin, GWU's secretary of professionals, finance and services, accompanied by members of the BOV group committee, represented the General Workers' Union.
The agreement is the result of extensive negotiations over a period of several months and includes significant changes from the past. In an environment of increasing complexity and regulation, the Bank and its employees must prepare for the future. The Bank and the GWU have worked together to shape this new world. As a result, the agreement includes significant changes to management structures within the Bank and creates a simpler organization in which we can empower and reward our employees for good performance. The agreement allows for a significant increase in salary flexibility and benefits to reflect market conditions. In terms of new innovations related to employee well-being, the bank has also introduced social and environmental rewards that will be of great benefit to lower-paid employees while contributing to the bank's ESG commitment.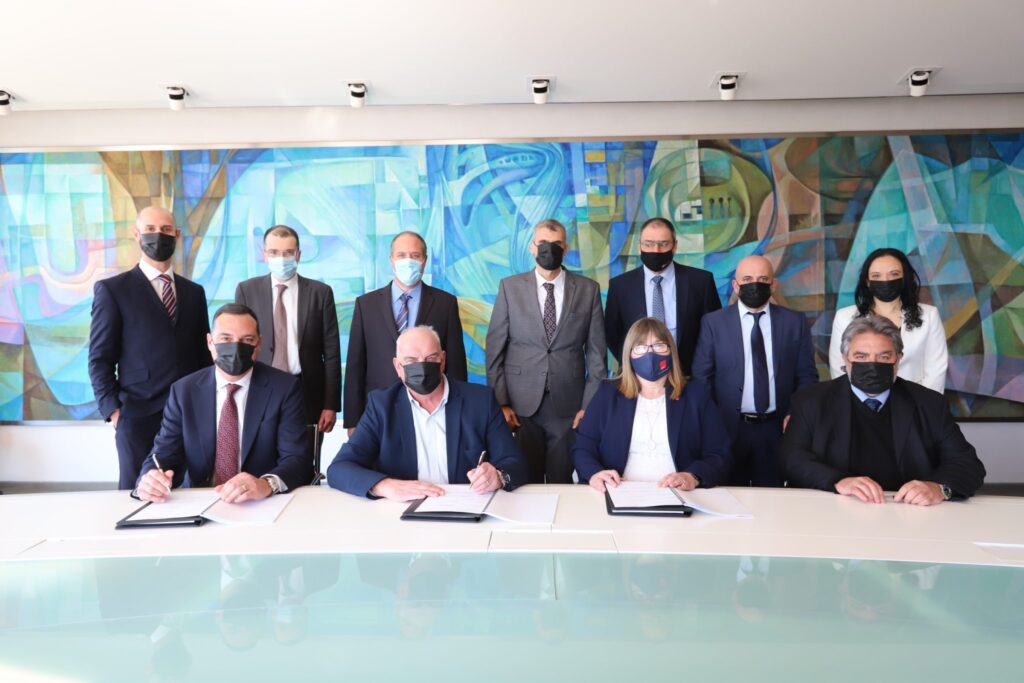 Of great importance, and also for the first time for BOV, the Bank has introduced a new voluntary company pension scheme that will be available to all employees in the coming weeks. This scheme provides for direct contributions from the bank to employees' personal pension plans to support colleagues' long-term futures. Mr. Hunkin said, "This agreement aims to shape the Bank's journey through increasingly complex times while better meeting the needs of our colleagues. This will benefit everyone, and I am confident that this agreement they are signing today will be one of increasing support, with better opportunities and the ability to develop and grow in line with our business."
As a key part of the BOV team leading this work, Dr. Vanessa Borg commented, "Our human resources initiatives are focused on making the Bank an innovative partner that promotes employee success, growth and well-being. I strongly believe that this agreement is closely aligned with our people and change strategy and serves as a solid platform to support these same initiatives. We are very pleased to have laid the foundation for better benefits for our colleagues with this collective agreement, based on more streamlined but flexible career opportunities. "
Dr. Gordon Cordina, Chairman of the Bank of Valletta, has been directly involved in designing new and innovative ways to support employees as part of the environmental, social and governance ambitions. He commented that "through a collaborative approach, the Bank and the Union have created a framework where the commitment of our employees is duly recognized, while their productivity will continue to support business growth and personal development.
Section Secretary Riccarda Darmanin called the agreement an important success, building on the solid working conditions of previous agreements. "We were able to negotiate this agreement at an unprecedented time. BOV employees have been working hard during a time of constant change brought on by new regulations and new systems. Not only have they continued to provide services during the pandemic, but they deserve to be compensated for their loyalty to the bank and its customers. We have also ensured that all Bank employees have the opportunity to continue their education and advance in their careers. She concluded by thanking Dr. Cordina, Chairman of the Board, the Bank's management and the Group's Committee for their support during the negotiations and looks forward to further strengthening the already strong partnership with the Bank, which is committed to ensuring a sense of fairness and transparency among employees.