The General Workers' Union has signed a new collective agreement for Malta Enterprise workers covering the period 2020-2023. In addition to improving working conditions, including wages, this contract includes a number of new benefits also related to advancing workers' careers.
The agreement was signed on behalf of the GWU by the Secretary of GWU's Department of Professionals, Services and Finance, Riccarda Darmanin, on behalf of Malta Enterprise of Chief Executive Kurt Farrugia and Chief Operations Officer Jesmond Silvio, while as workers' representatives Elizabeth Tabone, Sean Sciberras and Anna Genovese signed.
Also present at the signing were GWU General Secretary Josef Bugeja and GWU Deputy General Secretary Kevin Camilleri.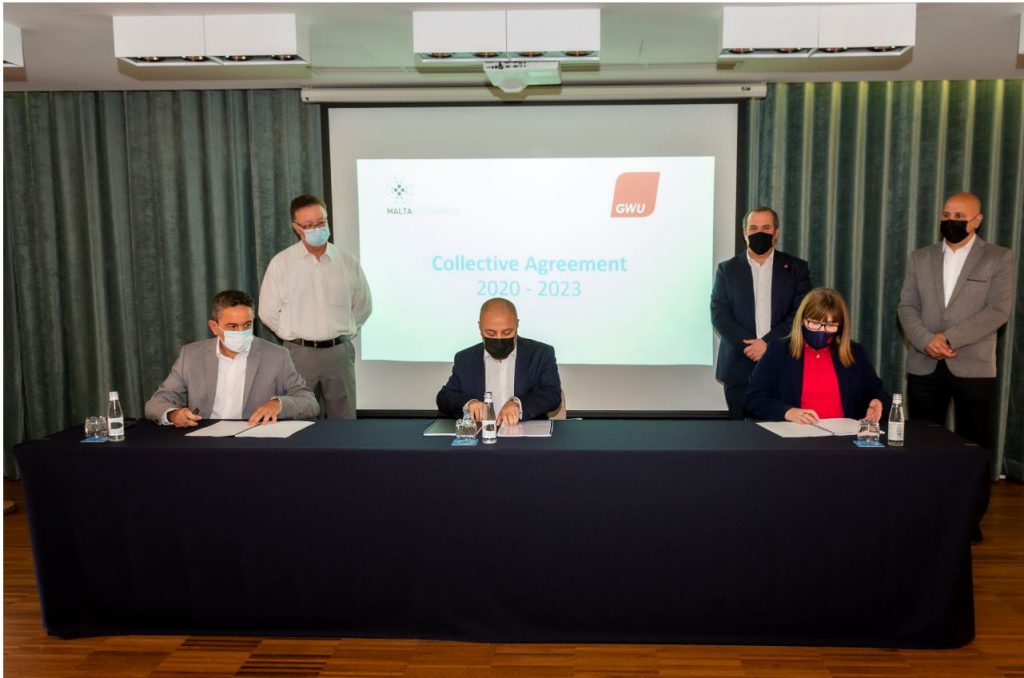 In her message, GWU Professionals, Services and Finance Secretary Riccarda Darmanin, said this collective agreement was being signed after long months of negotiations. "We simply realised at that time that we could not come together because of the pandemic. In this collective agreement we have further improved the conditions that already exist in Malta Enterprise, we have improved both the financial package and we have added some new benefits, "said Darmanin.
She added that structures have also been added to encourage Malta Enterprise employees to continue to improve their careers while working efficiently. Darmanin concluded by thanking management, employee representatives and most importantly the employees themselves for the trust they have placed in GWU by signing this collective agreement.
For his part, Chief Executive of Malta Enterprise Kurt Farrugia said, "It is a pleasure for me that this agreement has been signed with the GWU, also due to the fact that the workers of Malta Enterprise have been instrumental in keeping the economy alive during these pandemic years, thanks to programmes such as Wage Supplement and others."


Source: inewsmalta.com
Ritratti: Alan Saliba