At the annual general meeting of the GWU youths, which took place a few days ago, the new board team for 2021 was elected. The board is made up of 10 people, each holding a different office. For the first time in history, it was noticeable this year that the board has as many young women as young men.
Also present at the meeting was the GWU General Secretary, Josef Bugeja, along with the Deputy Secretary, Kevin Camilleri. Both praised the work of the youth branch and wished the new board all the best for this milestone.
Josef Bugeja spoke about how the pandemic affects all workers, especially young people entering the workforce and students completing their studies that will eventually lead them to their careers. He mentioned how the work of the GWU youth continues as, "We are also seeing an influx of trainees making a difference in the hallways of GWU. In a 77 year old organization, the ideas and mentality of young people have been greatly influenced. We see this every day in our thinking, our mentality and our way of doing things. The enthusiasm of the young people will certainly help to energize the GWU. "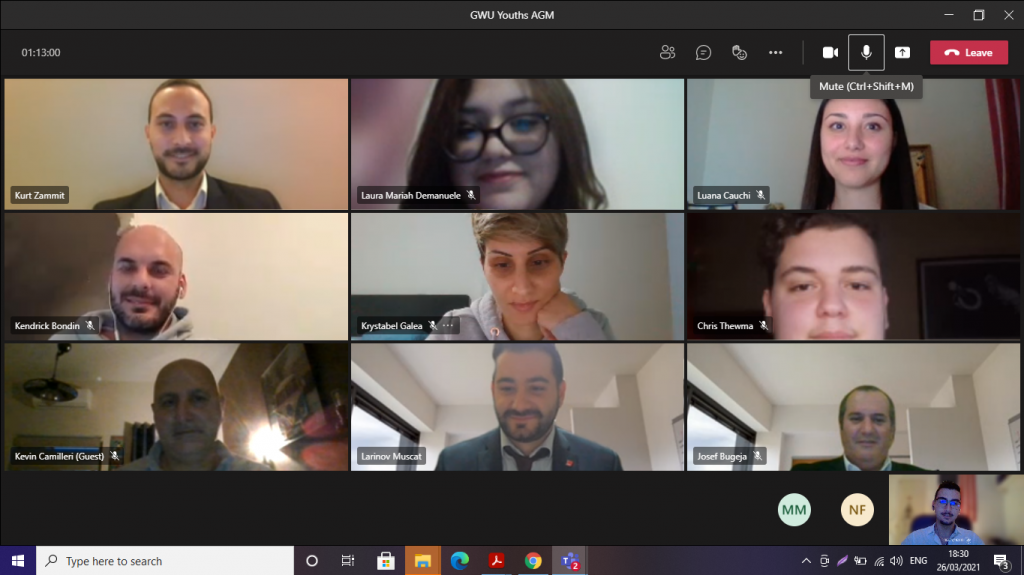 The deputy Secretary Kevin Camilleri began by thanking the previous administration for their work and all the work they did to finally get us where we are. He concluded by saying, "I thank each and every one of you for your work. You are tomorrow's representatives at GWU. It's good to keep going, especially when it comes to education, so that knowledge about unions grows. "
The president of the youth branch, Kurt Zammit, and the Section Secretary, Larinov Muscat, joined the members of the new Executive Board in giving a voice of thanks for the support and help they have always found, both from them and from the Secretaries of the other Sections within the GWU.
The new Executive Committee will consist of:
President – Kurt Zammit
Section Secretary – Larinov Muscat
Assistant Section Secretary – Matthew Seychell
Finance Officer – Laura Demanuele
Public Relations Officer – Miguel Agius
National Relations Officer – Chris Theuma
International Relations Officer – Luana Cauchi
Education Officer – Quren Borg
Social Policy Officer – Michela Muscat
Digital Economy Officer – Nicole Fenech