What does Freedom Day mean to the Maltese people?
Achieved Freedom means not only the departure of the British military base but also the freedom in our thinking, in our choices. A freedom that gave the Maltese and Gozitan people the choice and creation of their future. A freedom that has created a democratic, social and self-governing society. And during these 42 years of Freedom, Malta has continued to move forward and make its own choices that have translated into economic and social development. Choices that have created a society built on social solidarity, on the values ​​of mutual respect and solidarity between citizens. Malta is a democratic country based on work and respect for fundamental human rights. Rights including freedom of speech, freedom of thought, right to work and freedom of association. Freedom means that we make decisions and direction that we want for the good of our society. Values ​​that shaped us such as equality, solidarity, social progress, social solidarity and equity.
But the road to freedom began long before. Many say that the road to liberation began on 28 April 1958 when the GWU called for a general strike to stop and confront the arrogance of a Colonial Government that was ruining the lives of thousands of Maltese workers. It was a beginning that led to independence and later freedom. It was the beginning we held in our hands. After liberation, great reforms took place and Malta changed completely. And the journey of the Maltese people has come to an end with Malta joining the European Union.
Freedom has imposed a responsibility on all of us. A social responsibility that we must share to ensure that no one falls and lives in poverty, no one is discriminated against, no one is exploited, no one is abused, and everyone has the right to decent work and equal pay and everyone lives a decent life.
What role did the Union play in paving the way for Malta's liberation from British rule?
As the GWU we were at the forefront, not only in the march towards full freedom for our country, but also in strengthening working conditions, improving living standards and most importantly in gaining more rights for members and workers in general. The march of GWU started long before 1979 and during that march it has always been characteristic that on that day of March 31, 1979, on the hill of freedom, it symbolizes the suffering they have gone through. Generation after generation of Maltese, so that at the end they managed to hold their freedom in their hands, the General Secretary George Agius of the GWU and the Prime Minister of Malta Dominic Mintoff rose and together lit the torch of freedom that illuminates the way forward. It was a historic moment that further strengthened the work of GWU after the 1958 strike.
It is moments like these that distinguish us and set us apart from other unions. Since its foundation, the GWU has always been linked to the political and social development of our country. It was founded to defend, guarantee and work for a better future for its partners, their families and above all for the Maltese people. These values that have shaped us are still the same values. They are the same values that have shaped our vision. It is the reason why the GWU has been a protagonist in the most important times of this nation. We have done so and continue to do so because we have always believed in the potential of Maltese workers and their partners to build a future. We have never been discouraged by any challenge faced by all members and workers.
That is why Freedom Day is the day when we as a union remember our past work and shape our future work. Today, as then, we must show courage and face a pandemic and a new world of work. In our daily work, we honour the oath of George Agius, to work for a better Malta.
Today, the GWU is working for a different, but equally important, deliverance as on that day. Today we are working to get rid of a pandemic that has put people's lives in danger, that has brought our economy and the entire world to a standstill. Workers have been asked to make sacrifices. The government is helping to give wages to workers who have been prevented from doing their jobs. This year has shown the greatness of the GWU, which has been a protagonist in the social dialogue with both the government and the social partners to save thousands of jobs. We do this because we believe in collective work and because we believe that together we can find solutions. We have worked with the authorities on health measures to protect lives. We have worked with the government to protect jobs, and we have worked with employers to protect workers in every workplace.
At the same time, we are working to create a new world of work. A world of work that respects the worker and their work. It is important that what has been achieved over time continues to be appreciated. We will certainly not allow the benefits gained over the years to be withheld from workers in new forms.
What was once impossible is now being done, and so Covid-19 has changed the way we look at the world of work. This new world has led to workers working from home, ordering food from shops on demand, ordering a taxi on demand. the GWU wants to see that everything that has been done and achieved for workers over the years is extended and not lost.
In the same spirit and will today the GWU is working to improve the working conditions and quality of life of thousands of partner workers with proposals that help and protect such as the right to disconnect, gender pay gap, work life balance, digital workers. During this year we have worked to give a voice to all those who do not have a voice – Maltese workers, workers from Europe, workers from third countries, workers in the digital economy. We have seen too much abuse and discrimination against those who are not organized within a trade union. We therefore believe that for the worker to be free from all forms of abuse he needs to be a member of the GWU. We believe this because as trade unionists we believe that the worker must be united and in solidarity with each other. Solidarity is the fibre that binds society together.
There is another freedom that the GWU is working for, freedom from prejudice, freedom from racism, freedom from hatred towards all that is different. Freedom from victory, and freedom from individualism. We strive to guarantee equality, inclusion, tolerance, integration, eradication of the precarious and fight against abuse.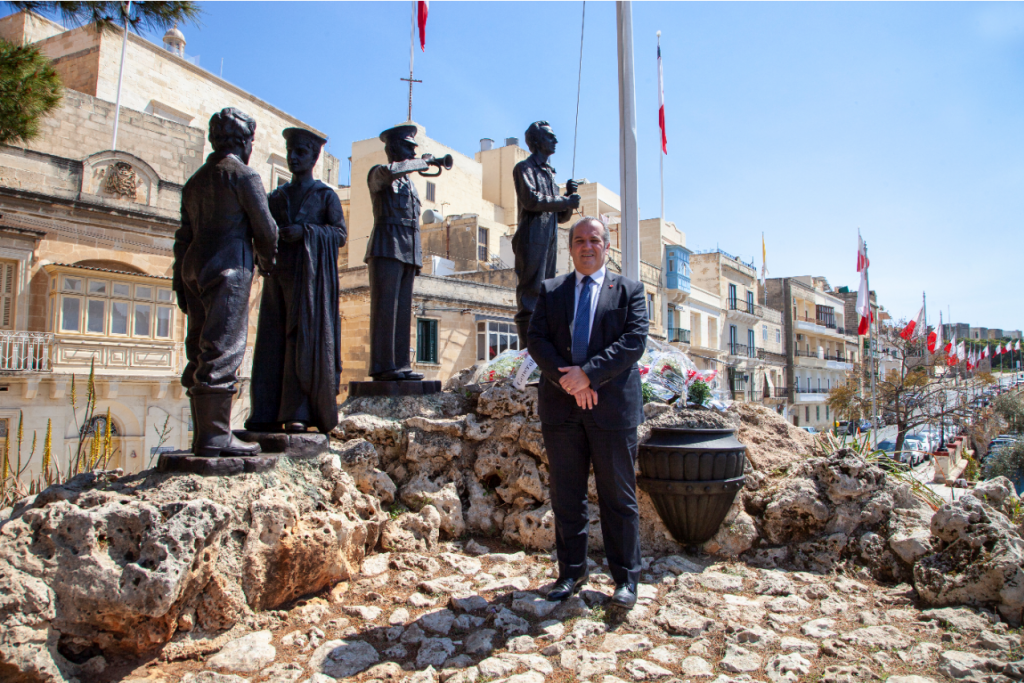 Malta and the rest of the world are currently being hit by the Covid 19 pandemic and everyone feels that we have lost the freedom we had. How has the role of the Union changed as a result of the pandemic?
During this crisis, both medical and economic issues determined the size of the GWU. GWU was proactive during such a delicate and sensitive time. In any crisis, it is the most vulnerable who must defend their rights and be protected from abuse. We have made important changes on several levels. Internally, work was done to protect our employees by taking all precautions required by health authorities. This has also been done so that the GWU can continue to serve its members during such a difficult time. Employees need someone to show them the way forward. Many employees, and often employers, turn to the union to find out about their rights and responsibilities, so it is important that the GWU continues to operate and continue to provide services. But just as it is important to provide services, it is also important to protect ourselves. In these times, we have adapted to the needs of our members and the country. We have engaged directly and virtually in the various workplaces to work with our members to assess the impact of the current situation and work with Shop Stewards to find solutions to mitigate the impact as much as possible. At each workplace we have created contingency plans for the different areas on how they can work without infecting others, such as different shifts, protective clothing and separations between machines to name a few. Many other employees have been given the opportunity to work from home.
This is done with a structured plan to keep businesses running while the GWU protects its members from a financial standpoint, but also from a health standpoint. We believe that by working together we can stop this virus and get back to normal. Only then can we begin to recover. We have taken care of the health aspect and the economic aspect. In these times, you have a greater focus on health and safety in the workplace. In these times, as in the pre-liberation period, you have a contrast between two worlds. You have workers who are very worried about losing their jobs, and you have other workers who are still doing their jobs and are worried about getting sick. But there is one element that unites them: the fear of the uncertainty of the future.
At the policy level, the GWU administration, as a key social partner in the country, is working in direct consultations with the government to jointly see the direct impact on workers and the government's response. This work has been going on for a year now. It is important that we are proactive and offer our assistance. In addition, the administration is actively participating in the MCESD and the ERB. It was the GWU that was proactive and called for an urgent meeting on quarantine leave pay. Meetings between the social partners at both levels are underway and there will be a lively debate.
Our work from that day has helped various workers, even non-members, as they benefit from this package, including hospitality workers, shopkeepers, stall holders and taxi workers, and those thousands of workers who are not currently in service or working have been included to be entitled to the €800 payment by the government and €400 by the employer announced in the package.
the majority, of members cooperate and work individually with employers to mitigate the economic aspect. We are also now working on the post-pandemic future. That is why it is important for everyone to be a member of a union of their choice. We have seen too many abuses during this time. Today we are more convinced than ever. We have seen abuses among those who ended up being terminated with just a message. The GWU's resilience was born in this time, as it was in the time before liberation. Together we Believed and together we achieved what we wanted.
What advice do you give to the workers and to all the Maltese people so that the day of liberation from the pandemic arrives as soon as possible?
This is a difficult time, but with the advent of the vaccine we have begun to see the way to a new normal. We know that the workers are concerned about this "invisible enemy" as they were 42 years ago, they are concerned about the future of the workplace. At this time, I call on everyone to continue to heed the appeals of the health authorities, and I call for the cooperation of each of us to play an important role in stopping the spread of this virus.
I believe that this virus cannot be fought at an individual level, but it requires a collective effort. Our society must be disciplined and follow the announcements of the Health Authorities. The situation calls for personal responsibility, a sense of duty, concern for one's neighbour. It is the responsibility of each of us to not only protect ourselves, but to protect others. Together, just as we arrived on the hill in Vittoriosa to achieve freedom, we are safe to continue together today to achieve the freedom from this pandemic.