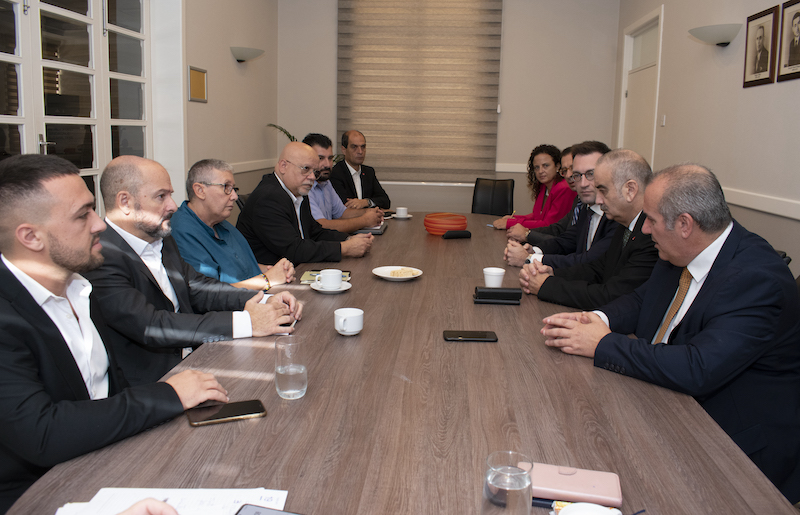 During a visit by the Head of the European Commission Representation, Lorenzo Vella, to the General Workers' Union (GWU), discussions focused on the need for the Commission to be closer to its citizens and for trade unions to contribute to the Commission to get the message of citizens, including workers, across in Brussels.
In the meeting with the administration and section secretaries, there was a consensus on the importance of the Commission having a continuous dialogue so that there is a full awareness on both their side and the side of the representation in Malta of what is going on and how everyone can contribute better.
The Head of the EU Representation stressed that it was important to engage with the GWU as each one of the Section Secretaries specialised in certain sectors and from them one could get the pulse of the workers as well as the knowledge of how things were going in the industry and thus the Representation served as another bridge between Malta and Brussels.
"It is important that we listen to the suggestions, praise or complaints so that we can convey the clear position of Maltese in Brussels so that we can have an influence in the ongoing processes," Vella said.
GWU Secretary General Josef Bugeja stressed that the EU representation needs to do more outreach and continuous communication as there is a big gap between what comes out of Brussels and what Malta achieves.
The Maltese population is not sufficiently informed about what is really happening in Brussels, especially when it comes to Malta. The Maltese people only hear parts of the message, which does not clearly reach the people.
Bugeja also pointed out that the European Union needs to be more sensitive towards Malta. "Although we have been part of the European Union for many years now, we feel that it is still not always sensitive towards us. You have to understand that what you have come up with cannot apply to everyone and everywhere. For us, 'one size fits all' does not apply."
The secretaries of the sections present at the meeting also shared their suggestions and complaints as they expressed their interest in bringing their concerns to the European agenda through the representation.