As the largest workers' representative, the General Workers' Union is concerned about the impact of the cost of living on workers' quality of life. After two years of uncertainty due to the pandemic, workers had begun to find some peace, but with the war in Ukraine, they are more concerned about price increases on essentials like food. Rising prices add to the uncertainty at a time when workers were hoping things would return to normal. In the face of this new crisis facing the country and its economic and social consequences, the appeal for solidarity as well as unity between the government, workers' representatives and employers remains.
This was the main message of GWU General Secretary Josef Bugeja during a ceremony in Msida to commemorate Labour Day, where the GWU central administration, unit secretaries and other union officials laid flowers at the feet of the workers' monument.
Bugeja began by saying that on this day we celebrate the social and economic achievements that have taken place over time, regardless of gender, nationality, colour, rank, economic background, and religion. However, he said that we are here to build our future together.
"Labour Day is also the day we recognize the contributions of workers to our society and our country. It is important that every year we honour the dedication and commitment of workers who guarantee the nation's economic growth, quality and prosperity. "
The Secretary General of GWU said that after two years of pandemic, we are in the last days to lift the restrictions that we had to put in place to protect our health and our jobs. But during these two years, workers have made many sacrifices, both financial, medical and emotional.
"It was not easy, but with unity and solidarity we managed to save jobs. Proof of this are the latest figures from the Central Bank, according to which last year the country recorded economic growth above the European Union average and the lowest unemployment rate in history.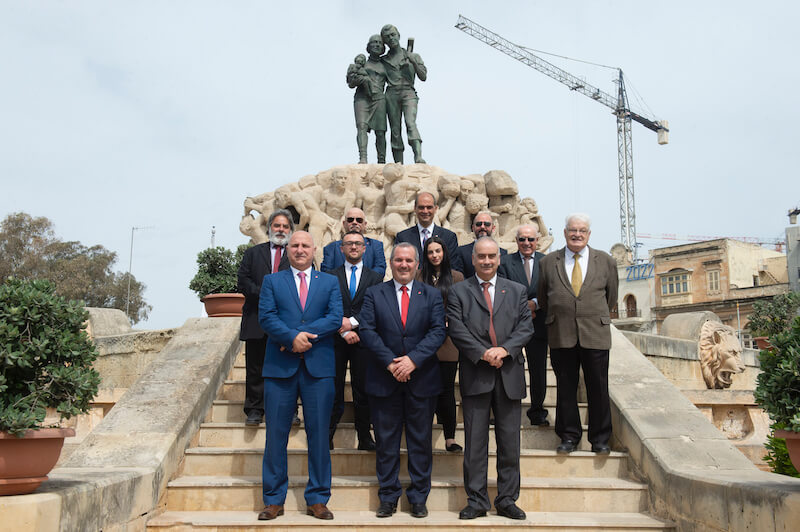 "This was done with the help of the government, which made the largest investment in history, investing 720 million euros in the Covid wage supplement. But workers have made great sacrifices, even taking a cut in their salary so that no one lost their job, and no job was eliminated. That is solidarity," Bugeja continued.
He acknowledged that the impact of the pandemic on the future of work, income and quality of life has caused anxiety about the future for many workers, which also affects their mental health. He said that today, in a post-pandemic work environment, unions face other challenges, with abuses in unorganized workplaces within a union, workplace health and safety. -Labour. Workers in the platform economy, home and remote work policies, labour laws for all workers, equal pay for work of equal value, membership of all workers in a union of their choice, and climate change and digitalization.
The GWU general secretary affirmed that collaboration and social dialog are essential to resolving these evolving labour issues. On the other hand, he said that the biggest concern of workers now is Russia's invasion of Ukraine and the cost of living. "An invasion that has taken place without provocation. There is no just, valid, humane reason for a country to invade its neighbouring country just because it is bigger and has more military strength than it does."
"Peace has been broken and thousands have been killed in this mad war. Millions have had to leave their homes and their land. Millions of Ukrainian workers have lost everything, their homes, and their jobs. Every day we hear about more and more fighting and more casualties. Every war brings ruin and heartache. But this is not the only ongoing conflict in the world. The conflicts in Lebanon, Palestine, Syria, and Yemen have the same impact on the nations of these countries, on their neighbours, and on the world. It seems that the world is not ready to live in peace. "
As the world of work has become global, Bugeja said, these conflicts, especially in
Ukraine, have a negative impact on every workplace. "The impact of rising
commodity prices, the impact on the transportation of commodities, inflation, have a
big impact on every workplace, every job and every wallet," he said.
He mentioned how the social dialog during the pandemic has created a sense of unity, cooperation, stability and measures to support workers and citizens and businesses so that no one is left without a job and without income. In this regard, he called on all workers to recognize and join the values and efforts of the General Workers' Union to make a difference in their workplace.
"Our members are directly involved in the future of their workplace, in creating and building a workplace of tomorrow."
Pointing out how the government has supported and invested heavily in workers in recent years, Bugeja said workers – whether in the civil service, public or private sector – have in turn ensured that the Maltese economy continues to grow and expand. He said they have borne much of the burden.
"Many have put their mental and physical health at the service of society. I salute and thank in particular all the workers who have worked tirelessly to pull the country out of the pandemic and move it forward. Professionalism, compassion and work ethic are commendable. "
He said that we must never forget our values of solidarity, social justice, basic rights at work and our determination to build a better future for our members and workers in general. In his words, this is the purpose of Labour Day.
"The hope is to give us the courage to keep working, the hope is to give members the opportunity to build their future at work, the hope is to empower citizens to make their contribution. to the enhancement of society. I thank you, workers, and greet you warmly," concluded GWU General Secretary Josef Bugeja.